Would you love to have more presence, confidence and purpose when you're on stage?
Would you like to start speaking for your business and get your message out there?
If you answer YES to either of these questions then this 1 day speaker training workshop is for you. As events continue to grow and the opportunity for women in business to take the stage increases, getting confident and clear on your message and how you deliver it is key. This speaker training workshop is all about helping you position yourself and your message in the right way.
Suzanne's workshop was brilliant! It was invaluable to hear from someone who has been public speaking for years. Suzanne was practical and extremely engaging when it came to sharing her knowledge. I walked away from the workshop knowing what I needed to do to improve my confidence and articulation when it comes to public speaking. Thank you for a fun and helpful workshop Suzanne!
Emily Osmond
What you'll Learn:
I get asked for advice all the time on how I get speaking gigs, how I stand on stage and deliver with confidence and how I get clients when I speak. So in this speaker training workshop I'm going to share some of these key things with you plus:
Morning Session:
What people want from a speaker and what makes a great speaker
How to structure your talk depending on what you want the outcome to be
Managing nerves
Having a clear goal and executing on it
My key speaking strategies to come across like a pro
We will break for 1 hour lunch so that you can take a walk, stretch your legs and grab some lunch at near by.
Afternoon Session
Preparing a presentation that engages and doesn't put your audience to sleep
Crafting your stories
Facebook Live tips
Creating the right offer & selling from the stage
Practical session where you get to deliver with confidence
This will be super interactive, we'll talking about the content you want to share, we'll be testing different strategies out in the workshop and more! If speaking is something you're serious about then you'll love what we will be working through.
At the end of the workshop you'll have the chance to speak for 1-2 minutes.  Your recording will then be sent to you with feedback to help you further improve.
Bonus Benefits:
We have a closed facebook group for those who complete this workshop. The purpose of the FB group is to continue to support you in your speakers journey with tips, resources, information on how you can run events and workshops to build your business and speaker profile as well as providing speaking opportunities to those in the group either for The Connection Exchange or when we get asked to recommend speakers.
The Connection Exchange always delivers top-notch workshops and this was no exception! Not only did I pick up some great tips, I now know exactly how to structure and present a full presentation that will connect with and deliver value to the audience. Once I've implemented Suz's strategies to help me feel more comfortable and confident on stage – look out world!
Tahlia Merideth
I just wanted to check back in with you after today's workshop to say thank you. Spending a couple of hours with you today has given me a roadmap to design the kind of "pitches" I could visualise but had previously struggled to convey at networking events. Today confirmed for me that there is a direct link between my level of preparation and my level of confidence, so I'm off to do my homework and start prepping for the next event.
Melanie Birt
Suzanne is very genuine and has so much value to give. Her workshop empowered me with the tools and knowledge to develop my confidence in speaking succinctly with a strategy to execute with more impact and ease. Thank Suzanne
Tess Philip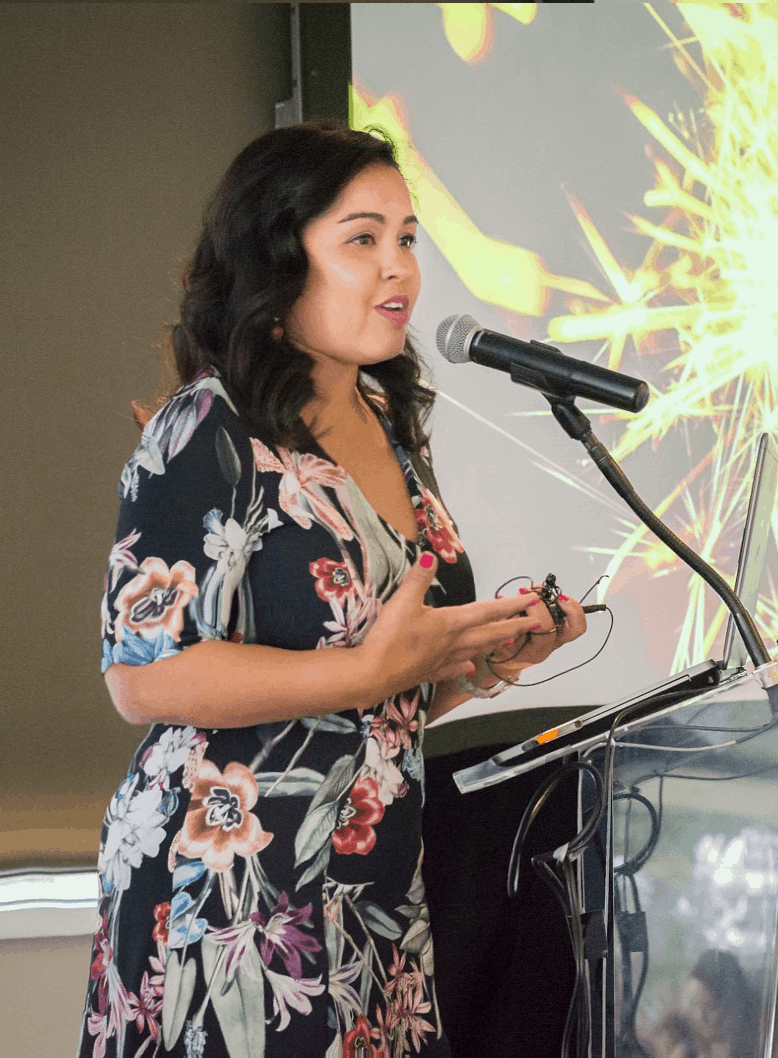 About Suzanne
Hi, I'm Suzanne Chadwick the CEO of The Connection Exchange, International Conference Speaker and MC. I love supporting women to get clear on their message, get confident on the stage and get clear how create presence and power.
I speak on a regular basis at conferences, events and workshops and love training others to deliver their message with power with purpose. I know that so many people have something special to share and speaking is something that can help you get your message out there and connect with more people.
If you want to check out more about me and what people say about me as a speaker then head over HERE 
OMG this is SUCH a good workshop ladies! I did the Melbourne one today & can't recommend it highly enough. I don't think it matters whether you're doing facebook live or keynotes in front of hundreds. I got SO many take aways. And watch for the sneaky little examples Suzanne integrates so seamlessly I barely recognised them!! #speakingdoneright
Jennifer Faulkner
Over the years I have attended many workshops but I must say yours stood out. The structure of the workshop and your style really made me think and get into action.  I learnt a lot, thank you for your wisdom and passion.
Meirav Dulberg
Engaging, warm and vibrant, Suz is the ultimate MC and workshop presenter. With that rare ability to capture and hold an audience long after their interest would have otherwise drifted elsewhere, Suz's style has the type of passion and joie de vivre that will leave you wanting more.
Amey Blaber
Speaking in public or to a group of people is something that we come across every day but not something that we are all comfortable with. Suzanne's workshop 'Public Speaking with Confidence and Connection', gave me tools and strategies that I was able to take and implement straight away. I learnt how to structure my presentations so they are clear for the listener, using the appropriate tonality, stands and gestures. The big take away for me was about the importance of preparation and practice.  The workshop is structured in a way that is dynamic, interactive and entertaining. Suzanne sprinkles the course with engaging stories from her diverse professional experience. I highly recommend this workshop to anyone who wants to improve his or her public speaking skills.
Ana Martinez
Suzanne, lovely to finally meet you face to face today for the 'Public Speaking with Confidence and Connection'. It was all this and more. You are friendly, engaging, knowledgeable, real and most of all bubbly and fun … I could go on and on and on. Love your energy and the way you deliver with ease…a true inspiration. I have come away from the 2hrs with quite a few gold nuggets of information that have made me feel empowered to step on stage and front of my audience with confidence. Thank you, thank you. I want to know and learn more. Cheers Lisa
Lisa Iurada